I love fall. I love when the hot air goes cool and the smell of wood-burning fires are all around. I love the leaves dropping and the earth changing. I love Halloween. There is no better holiday. You can scare people and they give you candy. What's not to like? You get to be another person for a day. Anyone you want. But, then it is all over. Let's face it, Thanksgiving stopped being a huge event when consumers made Black Friday. So, the day after Halloween until the end of January are hard times for me. First of all, Christmas is stressful. It's hectic and I want it to be perfect for everyone. At the same time, I don't even like these people so why do I care? Really, I do Christmas for the kids. This year I was expecting a more-harrowing-than-usual Christmas. I started drinking in November. Then, after the lights and lying to ourselves about how wonderful the world was for a month and a half, we plunge into total darkness and cannot even go outside much for the frigid air.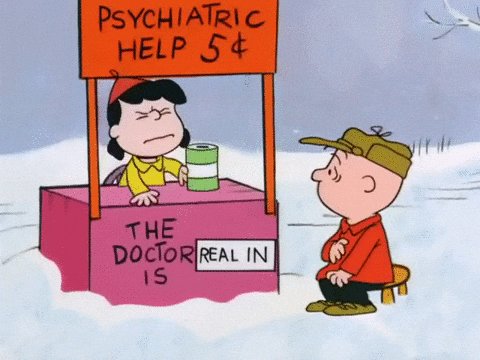 One evening I was talking to PeppermintFatty about the doom and gloom surrounding me, and just like that time Lucy gives her advice to Charlie Brown when he needed to find the Christmas spirit, he gave me his own:
"Damn it, woman!" (This is how he usually refers to me. It's cool, we're family.) "I told you before to watch Shameless!"
Now, I have never had anything against Shameless. I just never put it on my radar. There are some shows you will avoid for reasons unbeknownst to you. This was mine. Reluctantly I started it. I needed something that wasn't going to pander to me about how beautiful life is, while also not wanting to kill myself after every episode. I started episode 1.
HOLY HELL Y'ALL!
William H. Macy as an alcoholic/druggie dad who soliloquizes the current state of his world is everything you need. Even though he's despicable, you have to love Frank Gallagher.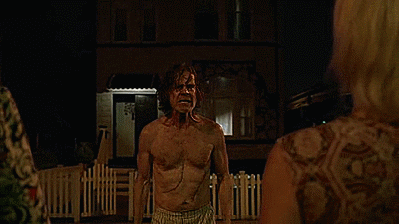 Meanwhile, his 6 children are at home trying to pay the rent, gas, electricity, put food on the table, and mostly not be taken away by child protective services. The head of this lot is Fiona. Fiona Gallagher is a badass. She has multiple jobs. She quit school after her mom left the house a few years back and she's raised these kids herself. It's a lot of dark humor, for sure and it's extremely adult material. Shameless was exactly what I needed for my Christmas season. Feeling neglected? Watch Shameless. Hate your dad? Watch Shameless. Wish your brother would mind his own goddamn business for once? SHAMELESS.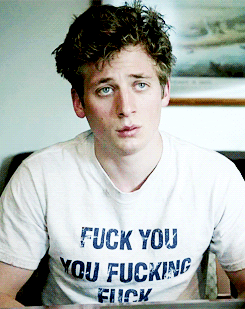 Remember how you felt after Christmas was finally over? Maybe you are one of those people who loves that time of year. Maybe you get along with all of your family and you love them and miss them bunches. Maybe you're a damn liar.
(NOT A SELF-PORTRAIT.)
It felt amazing to come home and get into the big letdown with the Gallagher's. As a matter of fact, I would love to be a Gallagher. I'm pretty sure I am to some extent anyway. If you are one of "those people" who like to sit on their perch and look down on me for expressing this desire because "you obviously didn't understand the show" then perhaps you were the one who didn't get it. When is the last time you watched a family struggling to eat a meal at the end of the day come together and do whatever it took to get that time and that food? When was the last time someone stole from the church offering plate for you?
When was the last time you saw true love? Kev and V are historically my favorite romance ever. They keep it real. They made mistakes and they always make up. At the end of the day, who doesn't want that kind of love?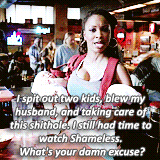 Have you ever had a man love you SO MUCH that you had to call him 2 (as of now) different names? I haven't. Y'all are just mad.
Is your brother your best friend? Would do anything for him, including getting the shit beat out of you by Mickey because his sister told him that your brother raped her? Even though you know he didn't do it, (being gay and all) you still won't out him and you'll take a beating for him? NO.
Look, Shameless gave me more of a sense of community and family values than any other show trying to cram that down my throat. For those of you who think the show is too much and you are too offended, I ask: It's called Shameless, what did you think would happen?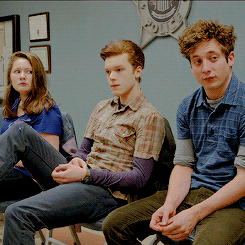 Let's face it. If we had zero shame in life, well, we would probably die sooner, but at least we would go out after having had a great time.
Seasons 1-6 are currently running on Netflix. Season 7 just finished airing on Showtime. You can watch it on Showtime Anytime.
January is officially over at midnight.