This post is going to be about the 1st season of the show Mr. Robot. This will be FULL of spoilers. You've been warned. 
My current obsession with Mr. Robot is not a secret; anyone in my life has heard me reference the show, multiple times.
I began bartering with friends to watch the show. Then, I began to beg them to watch. Then, I secretly resented them for not watching. Then I straight-up judged them. Eventually I realized that I am not in control of what other people watch. I may or may not have come to this realization when asked if I was being paid for endorsing the show.
Fine, I get it. Shut up. No one wants to hear about Mr. Robot.
.I started to hear whispers about Mr. Robot after the first episode had aired; people I follow on Twitter and Facebook began to talk about this little show on an odd (to me) network created by a man who has only done 3 other projects. I had to investigate!
I was pleasantly surprised.
Mr. Robot is not about robots!
Before Mr. Robot I knew nothing about Sam Esmail. Rami Malek was an actor, but I didn't remember him from any of the movies listed on his IMDB page. I can tell you right now that both Esmail and Malek have a bright future in front of them. From episode 1, Esmail has never wasted a shot. He has chosen everything perfectly. All the chips fall into place beautifully. From the opening to the title card until the ending of each episode I was riveted by the story before me. Malek is quite possibly the biggest surprise I have seen in an actor in ages. He turned this sad, lonely, computer hacker into someone I genuinely care about. The abundance of shits I give is a bit dizzying. I have never once felt like I wasted time on this show and actually just want more episodes. I would hoard the show if possible.
Behold, all the title card sequences!
Who is Mr. Robot was a question the viewers had asked until episode 8. Then, Esmail brought down the façade we had been clinging to for the past 8 episodes in such a way that we questioned our own sanity. Episode 9 nearly killed us. And, no, we were never emotionally prepared for Shayla. (Admit it – Pictures of You now makes you want to ugly cry in the corner.)
Mr. Robot, who turned out to be Elliot's father, was not a surprise. Elliot was broken, I understood that. I figured out that Mr. Robot was Elliot's deceased father actually just disguised as Elliot himself. What I wasn't expecting was Darlene being Elliot's sister. So many questions!! After Season 1 ended I had to go back and watch the episodes with new eyes. I realized a few things; Mr. Robot is about a computer hacker and an anarchist society, but also, it's a show about mental illness. This wasn't a secret. The story begins with Elliot not being able to attend a party for Angela because he cannot handle social situations. He instead heads to Ron's Coffee to confront the owner, Rohit Meta; he confronts Meta about the child porn ring he found when he hacked him. Why did he hack Rohit? Because the wifi service the coffee shop offered was too good. There are no good things, in Elliot's opinion. So, he hacked into Meta to find out why he had invested in a fiber optic line.
Elliot hacks all the people he knows; he trusts no one. This isn't a just a story about a vigilante, though. Elliot is incredibly sad. He's lonely. We find out in episode 2 that Elliot's best friend, his father, died of leukemia when he was young. Immense guilt and grief consume Elliot. We learn throughout the season that his mother was not a warm, comforting, loving mother. We meet Elliot's best friend, Angela, and we learn that her mother died of leukemia alongside Elliot's father. They both worked for the nefarious Evil Corp. What we don't know, is why Elliot is suddenly in our lives.
Esmail is a genius; he breaks the fourth wall and throws us into the middle of Elliot Alderson's life. The very beginning of episode 1 is Elliot speaking to us. He is telling us about the secrets of the world. From there he continues to talk to us. We continue to follow him in his day to day life. He looks directly at us at times, asks us questions. We help him break his morphine habit. We grieve Shayla with him. Hell, he even confronted us once. This is all done seamlessly through voice-overs and perfect camera angles.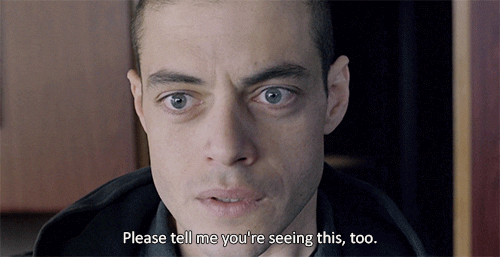 Esmail inflicts the story upon us more than this, though. We are all slaves to our lives. We buy the things we are offered. We do the things we are supposed to. Do we even have a choice? Are we even in control? What's the choice if you only have Coke or Pepsi to choose from? Are we really so easily manipulated? We are slaves to debt. fSociety wants to bring down Evil Corp on a global scale to redistribute the funds of the mega rich to those of us living in debt. It's a Robin Hood story, but not entirely. Elliot wants avenge the death of his father. Perhaps if he brings down this monster corporation he can finally assuage the guilt and shame and hurt he has lived with his entire life.
If only life were so easy.
Mr. Robot is a ride. You may choose to get on the ride, but the ride chooses when you are allowed to get off.  This concept is displayed time and again. Whether we are watching Darlene working her ins and outs with fSociety and The Dark Army, or if we are following Elliot struggle to live a live a "normal life" while suffering from a mental illness, which is not necessarily schizophrenia, while also trying to gain control over a corrupt government, or whether we are watching Tyrell Wellick (and wife) socially climb the highest of ladders while embracing his inner psychopath, or even watching White Rose and Terry Colby seemingly watch the world burn at the end of the season we realize we are never once in control of the ride that we have been so painstakingly put front and center of. We also realize that perhaps Elliot has not accomplished what he really wanted. Perhaps it has all been a delusion.
Neither do we, Elliot.